Ball Float Steam Trap
steam trap could be described as a device which distinguishes between water and steam, automatically opening a valve to allow the water to pass out, but at the same time trapping the steam and preventing its escape. Steam traps are used to ensure that steam is not wasted. Condensate and air when present in any steam using plant have the following detrimental effects on the efficient operation of the plant: (a) they take up heating space which should otherwise be occupied by steam, and (b) they cause a water film on heating surfaces, or a pocket of air, which restricts the transfer of heat.
Mechanism of Ball Float Steam Trap
In practice, a steam trap has two separate elements. The first of these is a valve and seat assembly, which can provide a variable orifice through which the condensate can be discharged at such a rate as to match the rate of condensation in the equipment being drained. The second element is a device which will open or close the valve by measuring some parameter of the fluid reaching it and 'deciding' whether this may or may not be discharged.
Ball Float is a mechanical steam trap where the trap operates owing to difference in density of steam. In a Ball Float Steam Trap, the valve contains a floating trap ball. When the condensate liquid fills the body of the valve the ball floats on the liquid. The floating ball is connected to the valve gate by an iron rod in order to open the valve gate when the ball floats upward. On the other hand, when the level of the condensate is low, it means the valve is filled with steam. The steam pushes the ball down and the gate will be closed. Furthermore, the valve can allow the steam to flow by a controlled or adjusted rate.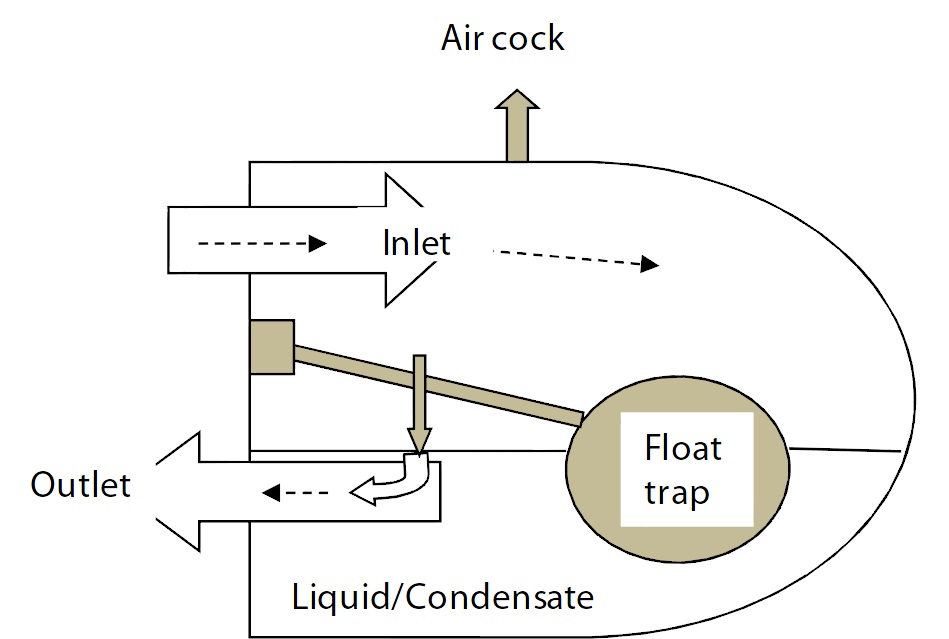 Applications of Ball Float Steam Trap
Ball Float Steam Traps are best suited for applications where there is a large volume of condensation which needs to be immediately evacuated in order to avoid water hammering, change of temperature and corrosion. Some of the most common applications are listed below:
Heat exchangers

Unit heaters and heater batteries

Separator drainages

Tanks

Ovens

Presses

Drying cylinders
Advantages:
Robust

Can withstand water hammer.
Limitations:
Bulky

Poor air discharge

Can be damaged by frost