Bimetallic Steam Trap
A steam trap as a self-contained valve which automatically drains the condensate from steam containing enclosure while remaining tight to live steam, or if necessary, allowing steam to flow at a controlled or adjusted rate. Most steam traps will also pass non-condensable gases while remaining tight to live steam. Effective removal of condensate by a trap from a steam system is important for maintaining the performance of process equipment, as well as ensuring safe operation of the system.
The bimetallic steam trap is a temperature operated (thermostatic) steam trap meaning it is based upon the fact that temperature of steam is higher than condensate. The difference between the temperatures of water and steam is used to operate this steam trap.
Mechanism of Bimetallic Steam Trap
Bimetallic Traps is operated by metal strips made of alloys with different coefficients of expansion that are bonded together. These metal strips are called bimetal elements or sometimes discs. The upper layer of the elements has a large coefficient of expansion and the lower layer has a small coefficient of expansion. In cold condition the disc is completely flat. When heated, it will bend because the top layer expands more than the lower layer and gets the shape of a spring-cone.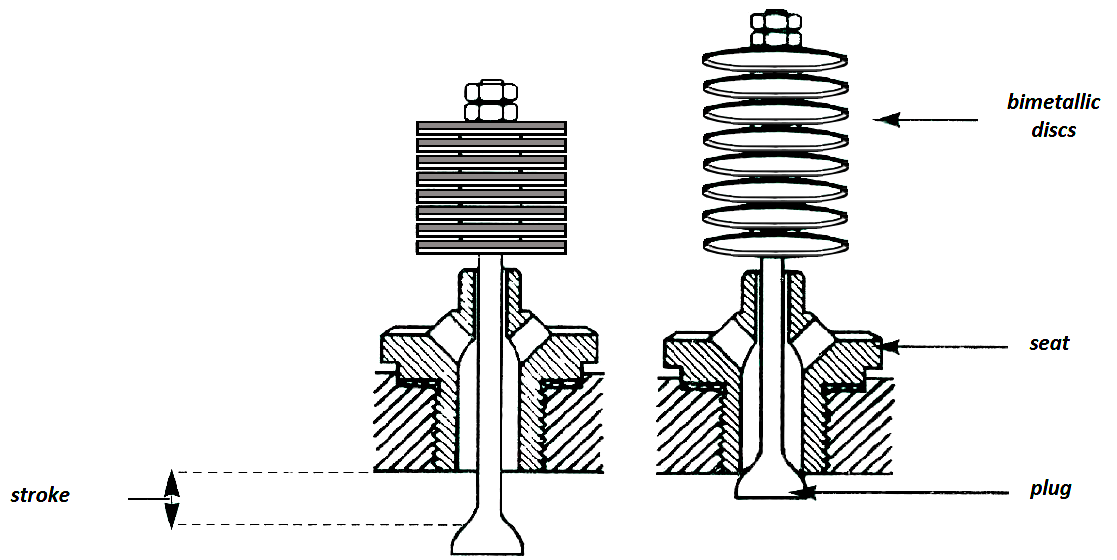 On start-up, the bimetallic element is relaxed and the valve is open. Cooled condensate plus air is immediately discharged. When steam enters the trap it heats the element and it will begin to bend. The element pulls directly on the valve to close it. The closing force is caused by the steam temperature, the opening force by the steam pressure over plug. As the steam condensates and the temperature of the trap decreases, the strips begin to cool. When the element has cooled sufficiently it relaxes and opens the valve.
Applications of Bimetallic Steam Trap
This trap is most robust design of steam trap among all steam traps. These traps prevents excessive heat loss as it is filled with sub-cooled condensate. The most important feature of this trap is that it is Resistant to water hammer and freezing. Some of the most common use cases for bimetallic steam traps are:
Trace Line

Driers

Press Units

Steam Jacketed Pipes

Convector Heaters

Heaters

Steam Collectors

Condensate Pockets

Main Steam Line Ends
Advantages:
Robust

Compact design.

High air venting capacity.

Resistant to Water Hammer.

Good performance against super-heated steam.

High thermal efficiency when set to discharge sub-cooled condensate.

Possibility of flashing of sub-cooled condensate in bimetallic steam traps is minimal.

Do not require freezing protection
Limitations:
Some amount of sub-cooling of condensate cannot be avoided in bimetallic steam traps.

Modest response to temperature variations.

Bimetal strips may change after being in use for some time

Requires servicing at periodic intervals